This article is a work in progress!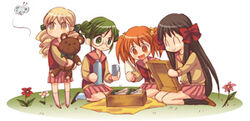 Pages that carry this template may have issues that conflict with this wiki's policies. Our editors will fix these issues as soon as they are available. We apologize for any inconveniences.

Pages with this template are automatically included in the Work in Progress category.
Hikari Konohana is a secondary character in Strawberry Panic!. She is voiced by Miyu Matsuki.
Appearance
Edit
Konohana Hikari is average height and same age as Nagisa Aoi. She has platinum blonde hair with blue eyes.
Personality
Edit
A rather shy and quiet girl most of the time, Hikari tends to not be very outspoken and it usually takes a lot for her to say what is really on her mind. Much like Nagisa Aoi, Hikari is also a transfer student, arriving at Spica in the second year. In that same year, she joined the St. Spica Choir (also known as the Saintly Chorus) with her best friend and roommate Yaya Nanto. Later, she starts to develop a crush on Amane Ohtori, and they begin showing intense feelings of attraction for one another.
She tends to be a physically weak girl who is fairly easy to be taken advantage of, much to her dismay. Unpleasant experiences related to her vulnerability seem to have inspired some fear of unexpected physical proximity in her. She does, however, have friends that look out for her well being. Hikari also seems to be very religious and can be seen praying within the church or at the Spica fountain with a statue depicting the Virgin Mary on the school grounds.
Hikari is the roommate of Yaya and at the same time also their best friend. Just like Nagisa is to come to school again. From her personality, she is very shy and her spine is very unstable. If it is again uncertain times or not enough self-confidence has strengthened Yaya her back. Yaya also encouraged Hikari to join the St. Spica Choir, because they both have a passion for singing.
She watches everything from a distance and has a minimal occurrence in the series, but despite her shyness she has a lot of friends. With Yaya, Tamao and Nagisa they meet will often find small tea parties. Particularly it has its focus on Spica's Amane down. By chance, gets the chance to meet them alone and get to know them a little closer.
Background
Edit
Coming soon...
Relationships
Edit
Coming soon...
Coming soon...
References
Edit
Coming soon...